During the 18th century, Peter the Great aimed to make Russia a major European power through modernization and expansion. As part of his reforms, he brought western European music to Russia. The subsequent period of time was marked by classical music styles, mainly from Italy and Germany. It was not until the 19th century that Russia strove to distinguish itself musically. A movement of romantic nationalism (also national romanticism or identity nationalism) emerged which "provided a series of answers to the 19th-century search for styles that would be culturally meaningful and evocative, yet not merely historicist." A group of Russian composers called the "Mighty Five" formed to compose and popularize Russian national tradition in classical music. Much of the group's works were based on Russian history, fairy tales, and folk tunes.
In the early 20th century, rapid growth in Russia brought about industrialism, the rise of a middle class, and a weakened government (especially after WWI). This created opportunity, uncertainty, and increased consciousness. In 1917, the Russian Revolution started and major political, economic, and social changes were taking place. During this time, Russian music also changed dramatically. The 1920's was an era of musical experimentation.
Image Source:
http://englishrussia.com/images/cathedral_blowup/1.jpg
Ballet was originally intended for entertaining the royal court. In the early 19th century, the theaters were opened up to anyone who could afford a ticket.
The Ballets Russes (French for "The Russian Ballets") was a ballet company established in 1909 by impresario Serge Diaghilev. It was distinguished for its highly skilled dancers and reknowned choreographers. In addition, Diaghilev employed many great composers, perhaps most notably, Igor Stravinsky, now recognized as the premier composer of the 20th century. After Diaghilev's death in 1929, the dancers were scattered and the company was claimed by its creditors.
The Ballets Russes characterized and reformed many aspects of ballet: the male dancer returned, work was not only about technique but also expressiveness, freedom of movement, importance of the individual was stressed, pieces sought to express a single theme throughout, choreographers and dancers collaborated with set designers and musicians, and Russian themes were reflected.
Image Source:
http://www.hatii.arts.gla.ac.uk/MultimediaStudentProjects/00-01/9705226m/mmcourse/project/images/ballets.r.poster.jpg
The following playlist is chronologically comprised of music compositions from the Ballets Russes:
Les Sylphides
was the first ballet to be described as a "romantic reverie" - daydream-like or a state of abstracted musing. It is a one-act ballet with no plot; white-clad sylphs dance with a poet in the moonlight of a forest. In the clip of the ballet, Chopin's Nocturne in A flat major, Op. 32, No. 2 is played. The beginning and end have sweetly floating strings, while the middle of the song has a hint of gloominess and there is alternation between wind instruments and strings.
(Nocturne (French for "nocturnal") is a composition inspired by, or representative, of the night.)
This ballet score is 45 minutes in total and was originally written for a very large orchestra, including quadruple woodwind, three harps, and piano. The portion in the clip is beautifully somber and quiet, though there are moments of intensity.
L'Oiseau de feu
is based on a Russian folk tale about a firebird that is both a blessing and curse to its captor. It was a breakthrough success and marked the beginning of the collaboration between Stravinsky and Diaghilev.
This piece, written as a piano solo, has a lighter and more upbeat sound. Schumann wrote it to represent masked people at Carnival, a festival before Lent. He gave musical expression to himself, his friends and colleagues, and characters from improvised Italian comedy.
(Carnaval
has musical cryptograms with its series of notes. I am a nerd and thought this was really interesting, though not particularly relevant. Click
here
to read about it if you wish.)
Petrushka
is the story of a Russian traditional puppet, Petrushka, who comes to life (similar to Pinocchio, but perhaps has more in common with Frankenstein). The composition has the Petrushka chord which is C major and F# major played together. The two sounds clash horribly and create a dissonant chord. Members of the audience and critics were taken aback by the music and called it grotesque. When the Ballets Russes traveled to Vienna, the Vienna Philharmonic refused to play
Petrushka
because they considered it "dirty music."
Image Source:
http://www.ballet-dance.com/200908/articles/exhibition_diaghilev_20090900_mcpherson.html
This piece is what
stereotypically
comes to mind when I think of ballets - light, airy, kind of boring (the score is very repetitive). Here are pictures to make up for it?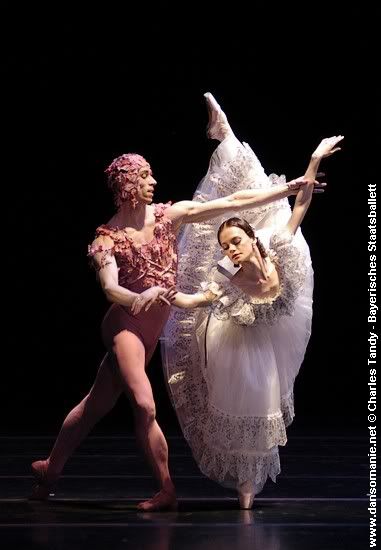 (left, performance from 1930-1935; right, from 2009)
Image Source:
http://nla.gov.au/nla.pic-vn3411690-v
http://www.forum-dansomanie.net/pagesdanso/images/Ballettfestwoche_2009_Munich/kolb_selina_spectre_de_la_rose.jpg
If you skipped through the previous song, please listen to Debussy's
L'après-midi d'un faune
(it's even better with your eyes closed). Yes, it is ten minutes long, but it is extremely impressive and expressive, embodying a large range of emotions. The french horn and flute at the beginning are haunting and it only gets better from there.
If that's not convincing enough, this is considered one of the first modern ballets and was very controversial for its time. It was sexually explicit, with an ending scene of simulated masturbation. Additionally, the ballet was presented in bare feet and rejected classical formalism/aesthetics.
This ballet is often considered Ravel's masterpiece for orchestra. It has a deep, passionate tone. The work was written for a large orchestra. In addition to the traditional instrumentation, it incorporated less common instruments such as alto flute, celesta, and crotales. Furthermore, it included a wordless choir, strings in eight parts, and a wind machine.
Image Source:
http://www.danser-en-france.com/compagnies/vienne/Vienneballet_fichiers/image026.jpg
Le Sacre du Printemps was
a s
uccès de scandale
("success from scandal") with
its radical departure from classical ballet. It had abstract, complex relations of rhythm and a primitive style of dance to depict fertility rites (there was also a staged blood sacrifice). Audience riot and a shower of bad press and criticism followed. The attention nearly made it an overnight success.
Parade
was another
s
uccès de scandale -
it was described as "a kind of surrealism" three years before surrealism emerged as an art movement in Paris.
Several factors made this ballet signficant:
- it was Satie's first ballet, which he worked on with avant-garde artist Jean Cocteau
- Pablo Picasso did the set and costume design
- it brought common street entertainments to the elite with its use of "noise-making" instruments (tyepwriter, foghorn, milk bottles, etc.)
- and on an amusing note, Satie wrote a postcard to a critic that said: "Sir and Dear Friend, You are not only an arse, but an arse without music. Signed, Erik Satie." He was sentenced to eight days in jail as a result.
Renard
("The Fox") is another opera-ballet. Based on Russian folk tales, this is a burlesque tale of humorous theatrics involving parody and exaggeration (not the striptease kind of burlesque). Stravinsky wanted to avoid the standard operatic staging and conventions. He created a new form of theater in which "the acrobatic dance is connected with the singing, and the declamation comments on the musical action." The clip is worth watching - the animal costumes and animal-like movements as dance are very imaginative.
(original sketch of Renard's costume, right)
Image Source:
http://en.wikipedia.org/wiki/File:Larionov_Renard.jpg
Another Stravinsky opera-ballet.
Les Noces
combines Russian folk song, irregular rhythms, and has a rather harsh, abrasive sound. The rhythms, and some of the choreography in this clip, remind me of those used in his earlier ballet
Le Sacre du Printemps
(1913)
. Les Noces
is rarely recorded or staged because it can be so challenging to the ears of a typical audience. It is also a difficult piece, requiring soloists to sing dozens of syllables in rapid succession. Upon seeing the premiere, critic Alfred Kalisch said it was "enough to convert intending brides and bridegrooms to celibacy." Ouch.
Image Source:
http://reserve.sp.ru/opera/foto/repert/svadebka.jpg
Another neoclassical ballet by Stravinsky. He took its inspiration from the grand tradition of French 17th and 18th century music. The choreography is neoclassical as Balanchine bent the angles of the arms and hands. In 1929, the costumes were redesigned by Coco Chanel.
Prokofiev was another composer that was prominent in the neoclassical movement. The premiere of
Le Fils Prodigue
took place in what was to be the Ballets Russes last season in Paris.
Image Source:
http://userserve-ak.last.fm/serve/_/16159651/Sergei+Prokofiev.jpg
This playlist examined the concept of establishing a national identity through music. The importation of foreign musics to Russia, under Peter the Great's reforms, essentially took over and replaced Russia's musical identity. This illustrates how music can work "to
reproduce
, reinforce, actualize, or memorialize
extant
sociocultural identities, in some cases also forcefully
repressing
both transformations and alternatives" (Garrett 137).
As Russian composers sought to establish a Russian national tradition in music, many innovative works were written. The fusion of folk songs and classical music styles took place, as well as experimentation with already-existing classical techniques. After a return to tradition, composers challenged it and looked for possibilities outside of the established conventions. Because the ballet scores were used in performance, it allowed for immediate reception and reactions from the people, which ultimately determined the success of the ballet. Many of the scandals and criticisms were in reaction to radically different styles. In addition to the musical innovations and changes, techniques of ballet were significantly impacted as well.
As described in depth earlier, Neoclassicism was a fusion of musical periods and marked a significant relationship of music and fashion. Furthermore, the Ballets Russes played an important role in establishing a strong collaboration between music and fashion/costume in the performing arts world. Overall, the playlist illustrates the impact and importance of social, political, and cultural moments in relation to music.
http://www.dorak.info/music/national.html
http://www.russianballethistory.com/
http://www.bbc.co.uk/radio3/classical/tchaikovsky/atoz/strav_n.shtml
http://library.thinkquest.org/27110/composers/stravinsky.html
Davis, Mary. "Chanel, Stravinsky, and musical chic.(Coco Chanel)(Igor Stravinsky)(Biography)." Fashion Theory 10.4 (2006): 431+. General OneFile. Web. 6 Apr 2010.
Garrett, Charles Hiroshi. Struggling to Define a Nation. Berkeley & Los Angeles: University of California Press, 2008. Print.